SAFER@WORK™
Comprehensive solutions to
keep your staff and customers
safer during the Covid-19 pandemic
As a world leader in the provision of clinical diagnostics, forensic, pharmaceutical, food and environmental laboratory testing services, Eurofins has been able to draw on its scientific experience to develop a range of SARS-CoV-2 tests in response to the coronavirus pandemic.
As we look to getting back to work, or continuing business as usual, proactive solutions to contribute to the safety of our staff, our customers and indirectly their families is a top priority for all businesses. Eurofins SAFER@WORK™ programmes are designed to help you to set up advanced risk management protocols to contribute to limiting the impact of COVID-19 in your workplace. Eurofins SAFER@WORK™ programmes, which include the Eurofins COVID-19 Sentinel™ tests, are designed and implemented by our experts and consulting partners, and testing is carried out in Eurofins government licensed clinical laboratories, in compliance with local regulations. By combining environmental testing such as workplace surfaces and wastewater testing, which form part of the Eurofins COVID-19 Sentinel™ portfolio of tests, together with risk-based clinical testing, as well as relevant consultative, audit, and assurance services, Eurofins SAFER@WORK™ programmes allow for a focus on human clinical testing where virus presence is likelier. This approach reduces cost and supports health authorities to allocate capacity constrained human COVID-19 testing where it is most needed.

Our SAFER@WORK™ solutions include:
Designing and auditing of COVID-19 related sampling and testing protocols as well as action plans;
Detecting the potential presence of the virus within teams on a site or in a given community through wastewater testing;
Testing for the virus on all types of environmental surfaces in the workplace to detect potential risks early and monitor the effectiveness of cleaning protocols;
Testing of employees, when needed and as decided by a qualified physician, within the guidelines of healthcare authorities in each country (with a range of modalities including PCR testing and/or serology testing for various antibodies);
An array of other solutions ranging from assurance and consultative services, relevant product testing, and self-assessment or e-learning tools.
As part of the SAFER@WORK™ programme, Eurofins COVID-19 Sentinel™ consists of a comprehensive range of testing solutions, including wastewater testing, work environment surface testing and worn mask testing, providing an early warning of the presence of SARS-CoV-2 amongst large populations at a given site (e.g. cities, factories, education institutions, government and public service sites, nursing homes), before the virus spreads too broadly.
Although employees showing COVID-19 symptoms are currently discouraged from going to work, significant workplace COVID-19 outbreaks continue to occur. Virus spread by asymptomatic SARS-CoV-2 infected individuals has been reported to be a significant cause of contamination clusters. Yet, other than PCR testing every employee each day using an invasive nasal or nasopharyngeal swab, few options exist to detect asymptomatic virus spreaders who can contaminate other employees or visitors.  
The Eurofins COVID-19 Sentinel™ portfolio of tests includes:
Wastewater Testing – regular and on-going monitoring of wastewater effluent can be used as a lead indicator of the infection in a community or work site;
Environmental Surface Testing – identify rooms where COVID-19 spreaders were present without human testing and verifies effectiveness of cleaning procedures.
Worn Mask Testing – testing worn masks for the presence of SARS-CoV-2 helps identifying in a non-invasive way that members of staff are infected;
The Eurofins SentinelTM solution is therefore an affordable, easily organised and non-invasive alternative to frequent employee clinical testing programmes. It can be organised with minimal disruption and is a cost-effective way to monitor any resurgence of the COVID-19 pandemic at a site.
Eurofins experts can also support public and private institutions in developing a tailor-made monitoring programme and in analysing results with efficient tracking systems such as surface heat mapping. In case of any resurgence of COVID-19, the Eurofins COVID-19 Sentinel™ programme subscribers can have access to Eurofins comprehensive range of solutions, including a broad set of human clinical testing solutions (PCR and antibodies) as well as auditing/inspection services provided by Eurofins Assurance and Inspection.
Eurofins SAFER@WORK™ programmes can make use of big data and AI technologies as well as specific algorithms applied in real time to public data and Eurofins anonymised testing result databases to assist in targeting and informing testing locations and setting frequency of testing and associated risk management measures.
A leader in all aspects of testing, Eurofins can support a multifaceted view on COVID-19 infections and infection vectors. SAFER@WORK™ programmes are well supported by both internal Eurofins resources and consulting partners across the world to deliver a coordinated service tailored to each client. Indeed, each business requires a different approach and the programme comprises a number of service offerings, or an individually customised service, dependent on each business' needs, to ensure it receives the best mix of testing and associated services required for its staff and customers to be SAFER@WORK™.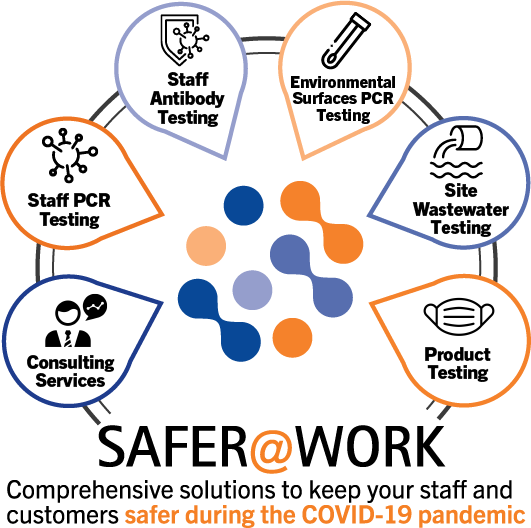 Learn more about each of the service offerings under the Eurofins SAFER@WORK™ Programme below:

TEST FOR THE PRESENCE OF THE VIRUS
The PCR test will detect the virus before it has been cleared by the immune system. Essentially, it tests whether someone has the virus in his/her nasopharyngeal track at the time of sampling. The laboratory test detects the genetic material (called RNA) of the SARS-CoV-2 virus. A sample is collected by an approved healthcare professional from the deep nasal area (or in some cases the throat) using a swab. The swab is sent to the laboratory to confirm the presence of the virus.
PCR testing is today the laboratory analysis of choice as it is the most sensitive way to detect the virus during the active phase of infection, whether the person is symptomatic or not. Several studies show that the proportion of asymptomatic or pre-symptomatic cases is significant in any given COVID-19 infected group.
Through PCR testing of members of your workforce, when needed and as decided by a qualified physician, within the guidelines of healthcare authorities in each country, you can determine (subject to the sensitivity of the clinically approved sampling and testing methods used and the time of sampling during the course of the illness) whether an employee is contaminated or not, likely to be infectious, and whether it is preferable for this individual to remain at home.

TEST FOR THE PRESENCE OF ANTIBODIES TO THE VIRUS
The antibody test (also called serological test) will detect infections after the immune system has produced antibodies which recognise the virus. These antibodies (IgA, IgG or IgM) will generally remain in the bloodstream long after the patient has recovered from the virus.
Through antibody testing, as decided by a qualified physician, within the guidelines of healthcare authorities in each country, we can help healthcare professionals to support your company to determine if some of your employees are currently fighting COVID-19 or have been exposed to COVID-19. This knowledge may help a healthcare professional. based on national and state recommendations and the patient's medical history as well as results of PCR testing, to determine if it is acceptable for an employee to return to work.

ENVIRONMENTAL SURFACE TESTING
Testing for SARS-Cov-2 on high touch points and surfaces in your workplace will provide:
An indicator of the presence of the virus at your workplace, which may trigger additional measures listed in your risk management programme (eg: testing of team members working in the workspace that day)
The confidence that cleaning and decontamination methods used in your working environment are effective. Eurofins' environmental surface testing services provide you with both a screening Coronavirus test that does not specifically detect SARS-CoV-2 and, if required, a SARS-CoV-2 identification test by PCR.
This testing service provides a unique opportunity to assess the presence of the virus in the workplace, and the need for cleaning and documentation as to whether cleaning has been performed adequately. Through a Eurofins led study over a two-week period in nine workplace locations across the world, it was demonstrated that sites with coronavirus contaminated surfaces were ten times more likely to have clinically positive employees than locations with no or very few positive surfaces (both employees (841 tests) and high-frequency touch point environmental surfaces (5,500 tests) were tested in parallel for SARS-CoV-2 using Eurofins COVID-19 SentinelTM RT-PCR methods).

WASTEWATER TESTING
A number of studies have now demonstrated that the presence of the virus in wastewater can be a leading indicator of infection in a community or work site, before any indication of symptoms in infected people. 1 Eurofins developed an optimised wastewater testing method with high sensitivity that can be used as an early indicator of virus resurgence to trigger human PCR testing programmes when required.
Through regular wastewater testing and on-going monitoring of your facility, you can add another indicator related to the potential presence of the virus within your teams and environment and tailor your additional testing programmes.

PRODUCT TESTING, CERTIFICATION AND INSPECTION
Eurofins has been providing testing, inspection and regulatory services focused on medical and protective equipment (masks, gloves, gowns, drapes, respiratory protective devices and equipment), as well as disinfectants and hand sanitizers to clients serving the healthcare sector since the outbreak of the COVID-19 pandemic, and continues expanding capabilities and capacity to serve all other industries, as employees are gradually going back to work.
Each sample is thoroughly tested in our labs and certified when applicable (against international and local regulations), thereby contributing to the safety and health of the end user, while our on-site inspections in sourcing locations help ensure that imported products meet the benchmarked quality standards.
Find out more details on the Eurofins Consumer Product | COVID-19 website: www.eurofins.com/covid-19-product-testing/

ADDITIONAL CONSULTATIVE SERVICES:
Our consultants and consulting partners can offer you a number of additional services customised to your needs:
They can help you design the most appropriate SAFER@WORK™ sampling and testing protocols, according to your specific needs, combining the various services described above and according to local regulations and contexts.
They can advise your company on sampling procedures and sampling plan design, sampling techniques, site list selections, corrective action plans and adverse result investigations. That way, you can ensure that you are focusing on the most cost-effective and targeted measures when it comes to your surface monitoring programmes.
Eurofins Assurance teams have also placed their expertise in the SAFER@WORKTM programme. We provide e-learning modules, consulting services, self-assessment tools and on-site audits, designed and built against the WHO, OSHA and other relevant organisations' guidelines promoting best hygiene practices at the workplace. Our experts have developed a set of standards to support organisations in their assessment of their level of preparedness to avoid the spread of the SARS-CoV 2 virus and ensure business continuity, while protecting workers and consumers. When the implementation of these standards is confirmed by an on-site assessment done by our experts, the VERIFIED Seal (link "VERIFIED Seal" to https://www.eurofins.com/assurance/safer-work/categories/verified-seal/) may be released to your organisation. The VERIFIED Seal can provide an extra layer of assurance critical to instilling confidence in your employees and customers in your COVID-19 prevention measures. Depending on the geography, our teams challenge the restart process of your manufacturing site, distribution center, retail shop, restaurant or hotel but also the re-opening of your offices. Find out more details on the Eurofins Assurance website: https://www.eurofins.com/assurance/safer-at-work/.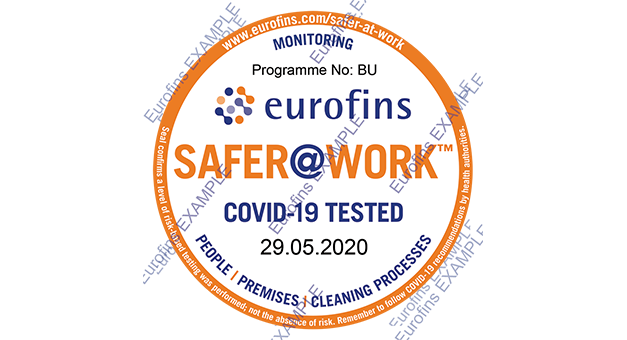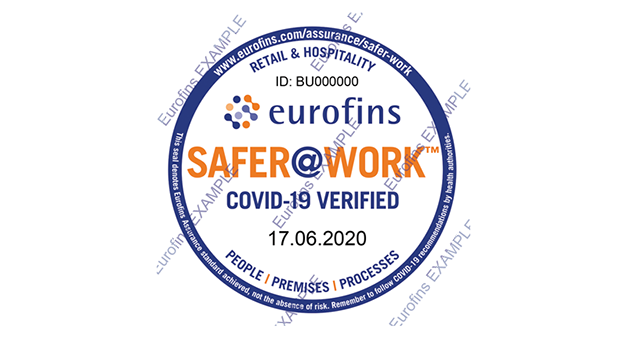 Displaying the exclusive Eurofins SAFER@WORK TESTED Seal reassures and maintains the trust of your customers and employees by demonstrating that your business participates in the Eurofins' SAFER@WORK testing programme.
Show your site's achievement of Eurofins Assurance standards—and earn customer and employee confidence—with the exclusive Eurofins SAFER@WORK VERIFIED Seal. This Seal is awarded to businesses that successfully complete a SAFER@WORK on-site assessment, in compliance with local government and health authorities' recommendations for COVID-19 prevention policies and procedures. 
For more information regarding SAFER@WORK™ Programme, please contact us: