CU-TR

The Customs Union of Russia, Belarus and Kazakhstan came into force on 1 July 2010. This is aimed to minimize and reduce trade barriers and enhance partnership. Meanwhile, uniform standards were developed-Technical Regulations of Customs Union.
 Since 15 February 2013, any product under Customs Union Technical Regulations must have a CU-TR certificate before being imported to Russia, Belarus and Kazakhstan. These three countries will cease to issue their own product certificates, which include GOST-R, GOST-B and GOST-K. However, certificates issued before 15 February 2013 have a transition period from 15 February 2013 to 15 March 2015.
CU-TR - Types of schemes
New type of obligatory CU TR certificate is also called EAC certificate including CU TR certificate scheme and CU TR declaration scheme. Validity period may be batch and up to 5 years.
CU-TR - Regulated products
List of products subject to mandatory conformity certificate in Customs Union covers the following types of products: machinery, low voltage equipment, devices working on gas fuel, lifts, equipment used in the explosive atmosphere, toys, personal protective clothing, products of light industry, audio & visual products, cosmetics, agricultural machinery, vessels, automobiles and accessories, etc.
CU-TR - The requirement for applicant
The certificate holder of certification and declaration must be the Russian, Kazakhstan or Belarusian company.
CU-TR - Documents required
• Application form
• Technical Construction Files (HS Code, photo, Russian manual, specification etc.)
• CB/CE test report and Certificate
• CIG023 factory inspection report
• MOU between manufacture and local representative
• Commercial contract, packing list and invoice (for batch certification)
CU-TR - Template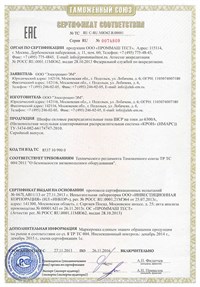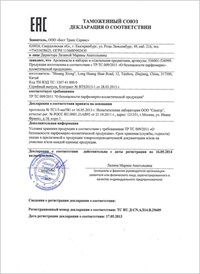 As the testing laboratory recognized by CU-TR certification organizations, Eurofins can provide local testing and certification services for your products to obtain the CU-TR certificate.