Plasticisers

Plasticisers are added to various glues as well as to plastic materials to improve their application characteristics. Plasticisers are substances from various chemical groups.
The largest quantity used, however, comes from esters of Phthalic acid, especially Di (2 ethylhexyl) phthalat (DEHP) is widely used. Because some of these plasticisers are a potential health hazard, migration into foodstuff is undesirable.Their use is regulated by Guideline 2007/19/EC of the European commission.
Migration
Plasticisers usually enter the food chain through migration from unsuitable plastic tubes, packing and transportation material containing them. An increased content of plasticisers has been found in fatty food stored in twist-off jars, e.g. pesto and oils. Here, the contamination comes from the sealing material on the inner rim of the cap. But dry foods in paper or cardboard packing have also occasionally been found to contain Diisobutylphthalat. It originates from the glue used in the packaging.
Plasticiser are also absorbed by human in other ways, for instance by children through mouth contact with toys containing them or through inhalation of vapors from floor coverings and wallpapers.
Eurofins can offer plasticiser analysis in food and oils with a LC/MS/MS method the company has developed. For analysis confirmation and for the analysis of plasticiser containing raw materials we use a GC/MS measurement.
Plasticiser Analysis in Food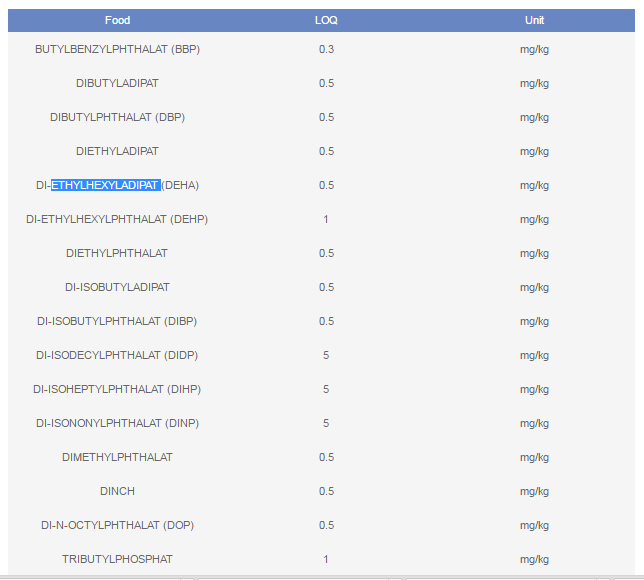 Plasticiser Analysis in Other Materials